Save 26%
More About Our Life Is Full Of Sunshine Cat Backpack (17")
Designed specifically for the COOL CATS, if you tend to look at things from the positive side, this Life Is Full Of Sunshine Cat Backpack is definitely for you!
Available in two different designs, the Purple version is vivid and bright, while the White has a cool, black and white retro feel. Both feature a cool cat wearing sunglasses with "Life Is Full Of Sunshine" printed text.
Large and spacious at 48cm (18.9") tall, it includes dual side zipper pockets with interior slot pocket and mesh zipper pouch. Perfect for school, work or play, it offers plenty of room for books, clothing, a laptop and other cool cat necessities.
Life Is Full Of Sunshine Cat Backpack Details:
Item Style: Cat Backpack
Exterior Features: Dual Side Zipper Pockets
Interior Features:  Large Main Compartment with Interior Mesh Zipper Pocket and Interior Slot Pocket
Gender: Unisex
Design: Life Is Full Of Sunshine Cat w/ Sunglasses
Backpack Type: Softback
Handle/Strap Type: Soft Handle
Main Material: Nylon Oxford
Lining Material: Polyester
Closure Type: Zipper
Carrying System: Adjustable Shoulder Strap
Technique: Embossing
Capacity: 20-35 Liter
Size: 31cm x 15cm x 43cm (12.2" x 5.9" x 16.9")
*

Please Note

: The color of these Funny Cat Backpacks may vary slightly from the product pictures due to computer monitor settings, lighting and background.
Customer Reviews
Write a Review
Ask a Question
Cute backback for kids
This backpack was out of stock on Amazon so I ordered it from here. I was nervous that the product was coming directly from China but we received the backpack within the timeframe noted in the order. The backpack was good quality and the perfect size.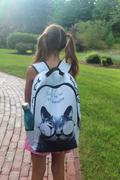 Shopping Policies & Benefits:
Satisfaction is our top priority! It's important for you to feel confident with every purchase you make on our website, so here are some of the extra benefits you'll receive by shopping at FunnBagz.com:
SATISFACTION GUARANTEE: If this item is damaged, not as described, you receive the wrong item or you're unsatisfied with it for any reason, we'll provide a full refund. Please keep in mind, unless we make a mistake, the cost of return shipping will be your responsibility. Full details here.
BUYER PROTECTION: If this item arrives late or doesn't show up within the estimated delivery dates, we'll provide a 20% discount on your order. Estimated delivery dates are shown above (below the item price) and can also be found on our Shipping & Delivery page.
FREE SHIPPING ON ALL ORDERS: Not only do we promise to deliver on-time, but we offer free shipping to over 200 countries around the world. No order minimums, and no strings. The price you see is the price you pay!
COUPONS & DISCOUNTS: We love creating loyal customers. Sign up for our newsletter (during purchase or at the bottom of this page) to receive special coupons and discount codes. And if you send us a photo of your item with a review, we'll provide a minimum of 10% OFF on your next purchase.
* Please Note: If you purchase more than one item, your order may be delivered in seperate packages. We keep our prices low by partnering with multiple fulfillment centers and warehouses. Plus, delivering items separately helps to minimize per-parcel values to avoid customs charges and import taxes.
For additional information about our delivery and fulfillment procedures, refer to our Shipping & Delivery page here